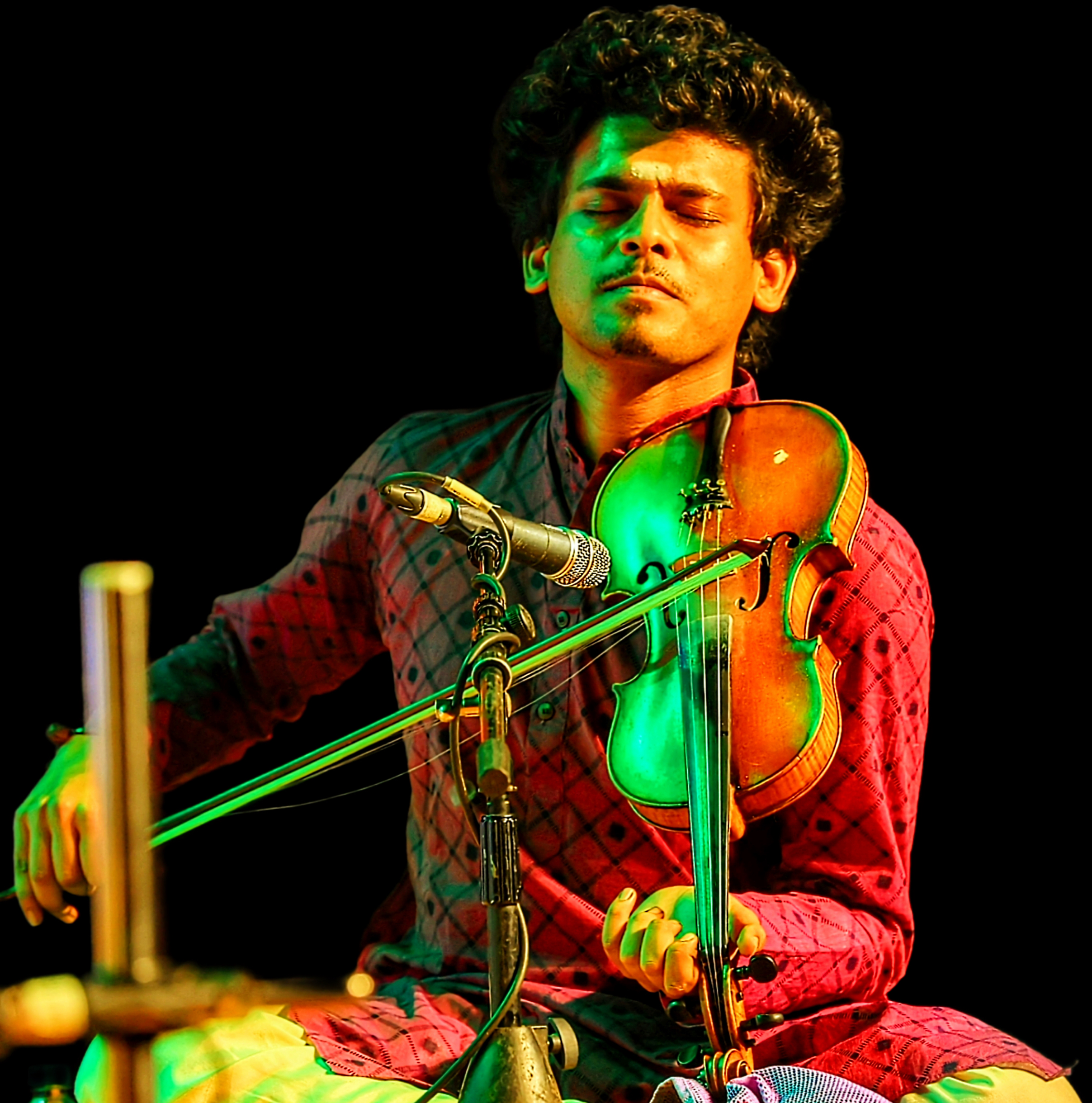 Indisches Konzert mit Sumanth Manjunath und Yashwanth Hampiholi + indisch-ayurvedisch-nepalesisches Essen
Sumanth Manjunath, a name that resonates with rich musical heritage, is a true wonder in the world of violin. Son of the acclaimed Violin Maestro Dr. Mysore Manjunath, Sumanth has captivated music lovers and critics at a very young age with his incredible talent. From a young age, he embarked on a musical journey, giving violin concerts at the tender age of 9, and quickly gaining recognition as a child prodigy with remarkable abilities.
Nurtured in a musical environment at home, Sumanth naturally developed his skills with the guidance of his grandfather, veteran violin vidwan Sri Mahadevappa, his uncle, renowned Violin Maestro Mysore Nagaraj and his father Dr. Mysore Manjunath. Under their tutelage, this third-generation young violinist surprised everyone with his technical prowess and his ability to convey deep emotions through his music, exemplifying the Bhava (emotions of music) style of presentation.
Continuing to expand his horizons, Sumanth has been exposed to newer frontiers of classical music through his training with internationally acclaimed violinists, experience of performing, interacting with different genres of musicians and performing with diverse top international musicians. It includes western classical, jazz, persian, arabic, turkish and sufi musicians. This exposure has honed his playing techniques and enriched his musicality, paving the way for a promising musical journey.
He is the youngest person ever to conduct workshops in the prestigious universities like Oxford and Cambridge (London). Sumanth's musical vision has already taken him to various prestigious venues, festivals, and music conferences across India. Additionally, he has enthralled audiences globally such as Dubai (Indian cultural embassy), Abu Dhabi, Sri Lanka (University of Jaffna), Singapore (SIFA), France (Indian embassy-Paris), Germany (Aachen, Frankfurt, Stuttgart, Cologne,Bonn, Berlin), Sweden (UNO theater), Switzerland (Zürich, SIFAA), the Netherlands (Amsterdam, HKU University of Utrecht), Scotland too. Government of India sent him to Iran and Sri Lanka as cultural ambassador for special performances.
In his performances, Sumanth has had the privilege of being accompanied by many famous percussion stalwarts, including Yella Venkateswara Rao, Shirmushanm Rajarao, Tiruvarur Bhaktavatsalam, Bangalore V. Pravin, Arjun Kumar, Tumkur B. Ravishankar, Patri Sathish Kumar Ramdas Palsule, B C Manjunath, Yogesh Samsi, Jayachandra Rao, Giridhar Udupa, kanjira Amrith, Guruprasanna, and many more. By combining the strengths of various aspects of violin playing, he has consistently enthralled audiences wherever he has performed. He has also performed jugalbandi(a blended shade of the two oldest forms of music-karnatic and hindustani) with many top Indian musicians.
He is also one of the youngest solo-instrumentalist to introduce Indian classical music to numerous urban and rural prestigious music venues of Europe like Portugal, Spain, Switzerland, Netherland, Germany, France and Sweden.
Beyond his remarkable musical abilities, Sumanth possesses inborn creativity, individuality, and sheer dedication. Fellow musicians and connoisseurs widely regard him as one of the most promising young violinists in the contemporary music scene. Despite his accolades and recognition, Sumanth approaches the great art of Karnatic music with utmost respect and humbleness, constantly striving to deepen his understanding and mastery of the form. He has performed in Many Reputed Music Festivals in India,to name a few Lalgudi trust,the prestigious Isha foundation,Gayana samaja ,Ganakala parishath,Swati thirunal Music University, Kolkota Dum Dum music festival and so on…
Completing his Masters in Music at Mysore University, Sumanth achieved top-ranking, further solidifying his musical prowess. At the young age of 23, he has already established himself as one of the top musicians in India. With 14 years of performing experience and 8 years of teaching experience, Sumanth's influence extends beyond the stage, as he imparts his knowledge and passion for music to aspiring violinists.
He wishes to take Indian instrumental music to people who believe that music is a religion which will unite everyone.
He has conducted numerous musical workshops for many reputed universities abroad and in India focusing on development of improvisational skills on different scales and different rhythms.
Now, Sumanth has the honor of being the Youth International Cultural Representative of the prestigious Sathya Sai University of Human Excellence, further cementing his role as a Cultural Ambassador and showcasing his dedication to the preservation and promotion of music on a global scale. As he continues to evolve and shine in the realm of classical music, Sumanth Manjunath stands as a testament to the power of talent, dedication, and a rich musical legacy.
*****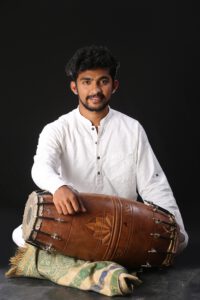 Yashwant Hampiholi hails from the family of musical background and is son of renowned Bharatanatyam Performer and Guru Dr.Smt Kishoree and Shri Kishor Hampiholi. Born on 22 February 1998, Yashwant gave his first Solo Mridangam Performance at the Prestigious 'Bal Mahotsav' 2008 conducted by South Central Zone Cultural Centre (SCZCCC) organized by Ministry of Culture, New Delhi.
Started Learning Mridangam at the age of 6 from Shri.I.V Renuka Prasad, Hyderabad and also took Training from Shri Karaikudi Shriram Chennai.Now taking Training since past 6 years from the Finest Mridangam Artist Dr. Shri Patri Satish Kumar, Chennai.
Yashwant is CCRT Scholarship Holder and is receiving scholarship from Ministry Of Culture Govt.Of India under Scholarship to Young artist. He is also learning Bharatanatyam under the guidance of his parents and has completed Visharad Poorna examination conducted by Akhil Bhartiya Gandharva Mahavidhyala Mandal, Mumbai.
Für den Eintritt sind Spenden erbeten.
Empfohlene Spende €5-€25
Begleitend zum Konzert wird es vor Ort gemachtes indisch-ayurvedisch-nepalesisches Essen geben.

7. Dezember @ 20:00

-

22:00

Eintritt: €5 – €25